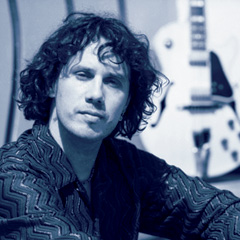 Artist Profile:
Sandro Albert
Brazilian guitarist, composer and arranger Sandro Albert is captured live at the Baked Potato in North Hollywood. His excellent band features Jimmy Branly on drums, Katisse Buckingham on woodwinds and vocals, Chris Golding on bass, Quinn Johnson on keyboards, and special guest Mark Ledford on percussion vocals and trumpet.
Sandro Albert, has worked as a sideman for major artists in his native Brazil for the past 15 years. Since his arrival in the U.S., he has worked with Jazz vocalist Brenda Russell, Milton Nacimiento, Luis Conte, and R&B/funk group WAR, among others. At age thirteen, Albert's grandmother gave him his first guitar. Not long afterwards a friend began to share his jazz collection with him. Some of his earliest influences were Wes Montgomery, Miles Davis, and Brazilian icons Milton Nacimiento and Jobim. As Guitar Player magazine states, "Wow! Sandro Albert shows talent, versatility, and great taste with his first solo record, Soulful People."
Jimmy Branly, Drums—Born in Havana, Cuba in 1979, Jimmy Branly started playing drums at the age of thirteen with friends from different musical schools. In 1998, Jimmy moved to Los Angeles where he has played with musicians such as Cecilia Noel and the Wild Clams, Otmaro Ruiz, Sheila E. Band, Luis Conte Band, Struz and Farah, Oscar Cartaya, The Nieves, Brandon Fields Band, Steve Tavaglione, David Garfield, Justo Almario, Airto Moreira and Flora Purim.