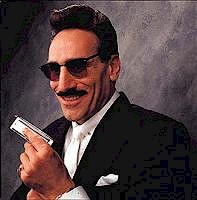 Artist Profile:
Rick Estrin
Sacramento-based blues stalwarts It's been 30 years since world-class guitarist Little Charlie Baty and harmonicist/vocalist/songwriter Rick Estrin first teamed up to form Little Charlie & the Nightcats. Jump and swing jazz mix with hard Chicago blues, rockabilly, bebop and Estrin's sharply original songs. One critic said their sound is like "Charlie Christian playing in Little Walter's band." Estrin's horn-like harmonica solos and wise-guy vocals blend perfectly with Baty's explosive guitar style, earning the group critical, worldwide recognition.
Going on 25 years together, the band will keep pushing the blues envelope forward. "As long as I keep buying the wrong lottery tickets," jokes Estrin, "this is what I'll be doing." With continued non-stop touring, what Little Charlie and the Nightcats will do is take their superb musicianship and sharp wit to cheering fans around the world for a long time to come.
Little Charlie and the Nightcats constantly criss-cross the country to play hundreds of live performances every year, including major blues festivals in Chicago, San Francisco, Cincinnati, New York and Portland. They've played the Montreal Jazz Festival, San Diego Street Scene and Seattle's Bumbershoot Festival. Were good at putting on a show, boasts Estrin. People don't go out to see people who look like them. They want to see something special.
I was schooled in this business to be a showman, and that's what you get when you come to see us. The Chicago Reader described their live show as party exuberance in the context of superb musicianship. These are serious musicians out to have a hotter than hot good time, said The Chicago Sun-Times.
.