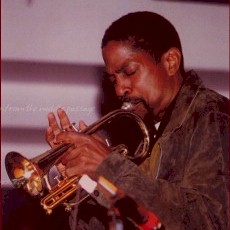 Artist Profile:
Nolan Shaheed
Nolan Shaheed is a very busy trumpet player in the LA area. He has appeared with Ray Armando, Al Williams, Louie Cruz Beltran, among many others
Nolan began to be noticed as a player when he was in the 'Sweet Baby Blues Band" of Jeannie and Jimmy Cheatham. He then began playing in the band of Al Williams' "Jazz Society." The dexterity he displayed in playing the trumpet has made him a favorite playing with such artists as Ray Armando, and alongside Benn Clatworthy.
Born in Pasadena, CA
Musical Director for Marvin Gaye 1974-1976
Lead Trumpet with Count Basie Orchestra 1976-1979
Natalie Cole 1979-1981
Stevie Wonder 1981-1983
Diana Ross 1983-1985
Phil Collins 1985
Anita Baker 1986
He has also performed and toured with: Eddie Harris, Teddy Edwards, Duke Ellington Orchestra, Lionel Hampton Orchestra, Jeannie & Jimmy Cheatham, Francisco Aquabea.
Nolan has been one of LA's top studio musicians since 1974 and is in great demand in the Jazz scene. He currently owns a recording studio and is a music producer.