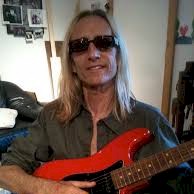 Artist Profile:
Moon Calhoun
VAN NUYS — For musician Richard (Moon) Calhoun, the irony strikes as forcefully as the lyrics to a sad song:
Here's this 41-year-old drummer, singer and songwriter, who survived years of hard drinking, drugs and crazy living in the manic Los Angeles rock music scene, reached rock bottom and decided to bulldoze his bad habits for good.
He joined Alcoholics Anonymous, later settled down with his wife, June, and began to write new and inspired songs at his tiny home bedroom-turned-recording-studio. He even began riding a bicycle to shape up and lose weight.
Then, on a cloudless Sunday morning in September, Calhoun was struck down by a freakish turn of his bicycle wheel–an accident that came on the kind of wide-open suburban street where boys take their first bike rides.
That's when he hit the innocuous pothole that grabbed the front tire, throwing the rider without a helmet violently to the ground, breaking his neck, turning him into what doctors refer to as a C-6 quadriplegic.
One month following his release from a 90-day hospital stay, the articulate lyricist is still reeling from the sudden turnaround to the lifestyle he had fought so hard to clean up.
"I was just riding my bike at the wrong time, in the wrong place, " said Calhoun, who has played with the Gap Band, Chaka Khan, Ray Parker Jr. and numerous lesser-known groups. "Now, what am I going to do with my life? What's the message here? It's kind of scary."
On Monday, local musicians will sponsor a benefit at Mancini's Restaurant in Canoga Park to raise money for Calhoun, who is faced with mounting personal bills and an uncertain future in the music business. On hand will be guitar players, drummers, bass and horn players, many of whom are reconsidering their own version of the fast-paced L. A. lifestyle.
"We're all in shock over what happened to Moon," said Jeff Paris, a musician and songwriter who has played with Calhoun. "It's absolutely surreal. Many local players just don't believe it happened. We all know that if something like this could have happened to Moon, it could have happened to any one of us."
The accident damaged Calhoun's spinal cord, leaving him with limited use of his arms and legs, turning the once-precise movements of his hands into an unsteady wobble. He now spends three days a week in physical therapy and needs help just to get out of bed and get dressed.
But while doctors have expressed only guarded hope that Calhoun will walk again, fellow musicians are more optimistic. If anyone can make a comeback, they say, it's Moon.
"Spiritually, the people who know Moon say that he's going to come back 100% from all this, period," said Dennis O'Donnell, a friend who also produced one of Calhoun's bands. "It may take time and hard work. But we're all expecting to see him on the music scene again, playing drums again, singing again."
Moon has the greatest hope of all.
He still has nerve signals moving up and down his spinal cord. The other day in therapy, he stood for a full minute without help. Heck, no matter what doctors say, Moon pledges he'll be back: "I believe in my recovery."
But before the accident and the new self-realization, there were the wild years.
Growing up in Tulsa, Okla., Calhoun was hanging out with musicians who were into reggae, who laughed at the way the teen-ager would drawl out the word mon or man, to "mooooonnnn."
During a brief stay in the home of singer Leon Russell, Calhoun recalls, Russell coined the nickname, Moon: "He liked the way it rhymed–Moon Calhoun. Leon, Mr. Poet-head."
At age 19, Calhoun hit Los Angeles and immediately liked what he saw–the weather, the women, the music scene. And, of course, the party scene.
Throughout the 1970s, he was always working, playing with the Gap Band, Chaka Khan. He had countless lounge gigs and began singing and songwriting.
But then there were the drinking and the drugs–the howling at the moon. Like the night when he threw a bottle of whiskey from a car sunroof, laughing as it shattered on the sidewalk. Friends said Calhoun partied so hard, he later spent days recuperating, lying prone on his living room floor watching television, turning the set on its side so he could see it better.
Then, on Dec. 4, 1980, the music finally stopped: Calhoun admitted he had a drinking problem. He called Alcoholics Anonymous.
"It was a life of blow, alcohol and coke," he said. "I was losing friends, running things into the ground. I didn't like the way people were talking about me behind my back, saying that I was just too crazy to be around."
Soon, he and his wife, June, moved from the Westside to Van Nuys. Calhoun set up his own recording studio in a spare bedroom and did numerous local gigs and toured with Andy Gibb and Ray Parker Jr. For kicks, he rode his motorcycle, drank a lot of coffee.
Last year, he began his new workout regimen: Each morning, he got onto the floor–not to watch TV, but to do 100 sit-ups. Then he'd ride a borrowed bicycle to a local health food store, always taking the back roads, avoiding the busy Valley thoroughfares.
"I'd never ridden a bike much before and I really got into it," he said. "And so I rode–not crazy, not wild, just cruising."
On a suburban street near Victory Boulevard, Calhoun's bike hit the hole. Calhoun's shoulder and head absorbed the impact. He recalls laying there for an eternity, unable to move his legs, realizing that his arms were nearly useless. "I was praying," he said. "I was really scared."
He spent three months in the hospital as doctors fused together his damaged spinal cord with bone grafts and a metal plate.
Now, outside his tiny home, a wooden plank has been erected so he can roll his chair to and from the front door. Friends have stored his three drum sets and have redesigned his studio so he can maneuver from a sitting position.
"It slays me, the fact that my independence is gone," he said. "It's hard to accept. But I have to make the best of it. The only other choice is to sit here and waste away."
The other day, with the help of his day nurse, Calhoun climbed into his wheelchair and rolled the few blocks from his house back to the Spot.
For one languid moment, he waited in silence over a shallow pothole, thinking about fate and ugly bad luck and the things that could have been.
"I had to go see the hole again," he said. "It wasn't particularly emotional. The accident, it's done now. But I couldn't put things aside in my mind until I went back."
Now Moon Calhoun is ready to start Life No. 3. He has new songs to write, music to make.
"Before the accident, I never felt that what success I had was ever enough," he said. "I always felt crippled because I never believed I was a big enough star on my own. It was like I fell short.
"I never realized what I had, just being healthy enough to play my instruments and have my life the way I had it. Now I know."