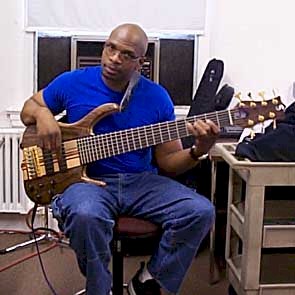 Artist Profile:
Melvin Davis
"When I'm on the 4-string, I know what to do," says Melvin Davis with a smile. "It's the norm. But when I get my 7-string into my hands, it's almost spiritual. It's a huge vehicle with almost infinite possibilities, and I really enjoy accepting the challenge. Why stay on the sheltered shore when you can sail out into the wide-open sea?"
It's an apt metaphor; slap a mast and rudder on Davis's sizable Ken Smith MD7, and you'd have a nearly seaworthy vessel. But the travels Davis takes via his instrument tend to be of a headier nature, and considering how his fingers fly from the steadiest of funk grooves to the most sublime solos, there seems to be little risk of this bass-ship ever capsizing. "I'm not sure about that," Melvin chuckles. "When I get out into that deep water, sometimes what I find is great and sometimes it isn't. That's cool, because I love to explore. I don't want to hinder anybody else's performance; I want to be consistent in my role as a bassist in an ensemble. But when the opportunity presents itself, I like to try things.
An ensemble couldn't wish for a more team-spirited player than Davis, whose Grade-A chops are complemented by a remarkably sunny disposition. In fact, he's become a sought-after bottom man for a boggling variety of music makers. Melvin has toured with and served as musical director for Chaka Khan, and he's also been on the road with Lee Ritenour, Larry Carlton, Bryan Ferry, the Pointer Sisters, and Buddy Miles. He's worked in the studio with many of these artists and has racked up credits on everything from jingles to jazz to country sessions. "It's weird," he says. "But I think I'm good at seeing a situation for what it is and bringing whatever I can to it. Most bassists who get hired for a lot of funk gigs don't turn up at many jazz gigs, but I've been blessed with the chance to work jazz to pop to TV to whatever. In fact, I used to get upset when people called me a funk bass player, because I didn't want to be categorized; I'd rather be thought of as a bass player who can play funk. I'm happiest as a jack of all trades."
Being a happy jack means that Davis has become a master of adjustments, able to fine-tune his playing from strict time to push-ahead groove to behind-the-beat fatness. "For me, it's got everything to do with the drummer. I've played with some of the greats, and they all feel different. Some are sticklers for the groove, some are loose, and some are tight. I take pride in adjusting to them; I'm flexible, and I like to learn. I'm not set in my ways. If the drummer lays down a pocket, I'll find it."
Not only does Davis take pride in being able to shape his abilities to his musical circumstances, he sees no point in passing judgment as he moves from genre to genre. "A lot of people say, 'Jazz is where it's at,' and they turn up their noses at everything else. But is's all music to me. There are people who love rock, so if I'm hired to play rock, I try to make them love it even more. I'll wear my jazz hat, my rock hat, my country hat – whatever's called for. I've got a closet full of hats, and I like to wear them all."
Davis also has a closet full of basses. He's been a Ken Smith enthusiast for a number of years, and he owns a custom-built 5-string, eight custom 6's, and a pair of 7's, all equipped with Smith's pickups and fitted with Smith's taper-wound strings. Melvin favors a '70 Fender Jazz Bass. On the road, he runs his basses through a Bag End rig that includes an ELF-1 Extended Low Frequency Integrator and a pair of S18E-D loudspeaker systems. He sometimes uses a volume pedal, digital reverb, or T.C. Electronic chorus, but generally Melvin goes for pure bass presence. His sound is even more pristine in the studio, where he tends to run his basses directly in the board.
The 7-string looks entirely at home in Davis's hands these days, but the instrument did have a rather unusual genesis. While on the road with guitarist Ritenour, Melvin was having trouble falling asleep in a hotel one night – and then a strange vision came to him: one with seven strings. "It just popped into my head. I grabbed some paper and started sketching it out, and hey – it started looking pretty good. I wrote 'Think about it' on the paper and faxed it to Ken." No stranger to unusual custom requests, Smith took up the challenge. Starting with the same dimensions as a 6-string, he worked out the logistics of the headstock, doubled the strength of the neck's graphite reinforcement rod, and made other adjustments. After a year of refinements, Smith delivered the instrument to Davis. "I enjoy playing it, and I enjoy expressing myself on it," Melvin says. "It's become a part of me."
Lately, Davis has been using the 7 to get some writing done; he's hoping to develop an album project for Ritenour's label. He's discovering that his writing has as much range as his resume – he's come up with material that stretches from blues and R&B to hip-hop and fusion. "Well, I can find something satisfying in whatever I'm playing," he laughs. "I believe music is the ultimate communicator, so I don't worry about the style. My main objective is for the music to touch people. Communicating without saying a word – that's the best feeling."
Los Angeles native Melvin Lee Davis was discovered at the tender age of 16 by Buddy Miles, when a horn player from Buddy Miles' band heard Melvin playing in a local club. Buddy Miles flew Davis to New York to audition for his band and immediately hired him.
After playing the New York club circuit, Melvin found himself working with Don Cornelius of Soul Train. He has toured and recorded with Chaka Khan, the Pointer Sisters, Lee Ritenour, Bryan Ferry, David Benoit, Larry Carlton, Patti Austin, Gladys Knight, and many other top acts. Davis wrote the theme for the TV show "The Party Machine" and "Soul Train's A Coming" and has appeared on "Johnny Carson", "David Letterman", "Jay Leno", and "Arsenio Hall." Melvin has travelled the world and continues to be in high demand across many genres of music because of his incredible talent and positive demeanor on and off stage.
Touring and Single Performances with:
2003:Matt Goss UK Tour
2003: Jeff Kashiwa & Coastal Access / Lee Ritenour / Eric Marienthal Phil Perry / The Braxton Brothers / Paul Taylor / Chuck Loeb / Huge Groove / Jeff Lorber / Gerald Albright / AB
2002: Doves Of Fire w/Steve Lukather, Simon Phillips, Jeff Babko. Rufus featuring Chaka Khan / Lee Ritenour / Jeff Kashiwa & Coastal Access
2001: Chaka Khan / Lee Ritenour / Jeff Kashiwa & Coastal Access
1999: Performed with "The Simon Phillips Group"
1996: George Duke
1995: The Lee Ritenour/Larry Carlton Project
1990-1997: Lee Ritenour
1994-1995: World tour with Bryan Ferry
1994: David Benoit and Russ Freeman Project
1989-1997: Chaka Khan
1985-1993: The Pointer Sisters
1980-1987: O'Bryan