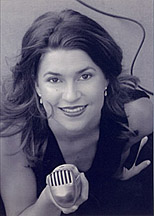 Artist Profile:
Lisa Harriton
An emerging young jazz artist, 23-year-old Lisa Harriton is becoming a regular in the L.A. jazz scene, appearing regularly at quality venues such as The Baked Potato, Rocco, Catalinas, Steamers, LACMA, Chadneys, The Jazz Bakery, Ca Del Sol, Sportsman's Lodge, Spazio, The Muse, Finns and Universal City Walk. Lisa's debut CD, Just You, Just Me, features her fresh vocal interpretations and fine keyboard work.
Equally at home with infectious grooves and disarmingly tender ballads, her voice has a clear, haunting quality, and a refreshing innocence that might be likened to a Jazz version of Alison Krausse. Lisa's keyboard work reveals a sophisticated harmonic sense and an enthusiastic pursuit of spontaneity.
Lisa has performed or recorded with:Ingrid Jensen, Dave Carpenter, Art Davis, Tony Dumas, Pedro Eustache, Rick Margitza, Rose Stone, George Gaffney, Joe Labarbera, Larry Koonse, Ky Palmer, Jaques Voyment, Alan Kaplan, Bob McChesney, Bill Maxwell, Roberto Miranda, Roy McCurdy, Dave Murdy, Darek Oles, Earl Palmer, Bruce Paulson, John Pena, Tootie Heath, John Pisano and Doug Webb. Lisa is currently performing on piano with Bruce Escovitz's Jazz Orchestra Bejo, featuring Ernie Watts. Bejo, an eleven-piece ensemble, regularly features one of Lisa's compositions.
As a studio musician: Lisa performed synth tracks and sang on pre-production tracks for Rod Stewart's new 'For All We Know' jazz standards CD. Her CD recording sessions feature: Larry Koonse and John Pisano, Guitar Dave Carpenter and Darek Oles, Bass, Joe Labarbera and Roy McCurdy, Drums.
China Tour August 1999: Lisa performed with Bruce Paulson and Julie Kelly at the Shanghai jazz/pop festival. This festival also featured one of her original compositions.
Japan Tour December 2002: A Christmas duo stint in the Grand Hyatt hotel in Fukuoka, Japan
International Jazz Festival Lima, Peru April 2003: Lisa performed several of her original compositions with the Frenzel/Harriton Project, an eleven-piece jazz ensemble. She also performed as pianist in Ingrid Jensen's band and participated as a clinician with Tierney Sutton and Ingrid Jenson at the "Women In Jazz" Clinic.
Vocal training/experience: Lisa began studio singing for Disney at age eight. She has continued to sing background vocals for Word Records, Integrity Records and several independent Christian albums. Lisa studied voice with her mother Terry Harriton, a prominent Los Angeles studio singer. Currently, she teaches about fifteen private students of her own in Woodland Hills, Calabasas and Thousand Oaks.
Piano and composition Training: Lisa is a high distinction graduate of the Academy of the Royal Schools of Classical Music, London. At age seventeen, Lisa began her jazz piano studies with Matt Harris at California State University Northridge. Currently, she is a student of Alan Pasqua at University Southern California.
Lisa first became interested in composing at age fourteen upon hearing the orchestral compositions of her father, an L.A. film composer. Other influences include Maria Schneider, Vince Mendoza, Michel LeGrand and Gil Evans. Lisa has studied big band composition with Matt Harris, for two years, and has written several charts for the CSUN Jazz "A" band to perform at various competitions and international tours. Most recently, Lisa has been studying jazz composition with Shelly Berg and Kim Richmond at USC. Lisa is fascinated with the incorporation of symphonic orchestra into the traditional jazz band and plans to continue her composition studies well after graduation from USC this May 2004.