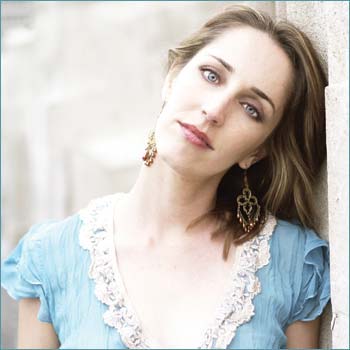 Artist Profile:
Kathleen Grace
Kathleen Grace is a member of the new guard of young, creative vocalists stirring up today's jazz scene. Her music displays a deep understanding of the traditions of her craft while creating a sound all her own. Her performances reveal a passion and pure joy for this art form.Grace's talent is earning her international attention — she has won numerous honors including 3rd prize winner at the 2003 Montreux International Jazz Festival Voice Competition with Universal Music, the 2004 Hilton Head Jazz Society award and the prestigious Betty Carter Jazz Ahead Residency. Most recently, Grace made her Kennedy Center debut and headlined the 2004 Jazz en Lima Festival in Peru where she shared the stage with jazz great Bobby Shew.
Grace also has earned critical acclaim. Louise Vausey Lewis of the Island Packet wrote about Grace: "Her clear, lyric tone of haunting beauty is a study in perfect production…It's difficult to make this Johnny Mercer classic, Moon River, sound fresh and original, but Grace achieved just that."
Whether she's singing a standard like "April in Paris" or a moody ballad by Leonard Cohen, Kathleen Grace brings a contemporary spirit to each melody. The award-winning jazz singer, composer and arranger, performs regularly in clubs throughout California. Her debut album, "Sunrise," recorded with Tamir Hendelman, Darek Oles and Jamey Tate, will be released Sept 6, 2005.
Throughout her life Kathleen balanced two main passions: music and politics. By the time Kathleen enrolled at Tufts University to study international relations, she had a three-octave range. The kind of voice people notice. She continued performing and wound up with a scholarship for classical voice training.
Politics, however, seemed to be her life's work. While plotting a career as a human rights attorney, she found work with nonprofits in the Bay Area.
She also found jazz. More specifically, she found Molly Holm, the former assistant director of Bobby McFerrin's Voicestra, who took on Kathleen as a voice student and introduced her to improvisation and the more avant garde sounds of jazz.
Still, the LSAT was taken, the law school application complete.
She just couldn't mail it. Instead she began studying music, working any sort of job to support her new jazz addiction. "The moment I started doing it, it was completely clear that that was the musical form that was meant for my voice," Kathleen says. "And the over-achiever in me liked the scary aspect of improvisation."
In 2002 She entered USC's Thornton School of Music, where she studied with its remarkable faculty, including pianist-composer Shelly Berg. Mentoring from chart-topping vocalist Tierney Sutton was invaluable as was harmonic instruction from singer and arranger Jennifer Barnes. Kathleen also immersed herself in the standards – including the songs she'd loved in those old movies.
On stage today, she takes all those songs – from "April in Paris" to "Bye Bye Blackbird" – and makes them her own. On her debut album, "Sunrise," she introduces "The Lady is a Tramp" to a Latin beat and ties "World on a String" into rhythmically complex knots.
In the short time since she began singing professionally, Kathleen also has accumulated impressive awards. She was a finalist in the Montreux Jazz Festival's international vocal competition in 2003. The following year she was honored by the Hilton Head Jazz Society, headlined the Jazz in Lima festival in Peru and completed a Betty Carter Jazz Ahead residency at the Kennedy Center.
Those judges know what jazz lovers are discovering: Kathleen Grace might have been great in an old movie but she's even better live on stage.
HIGHLIGHTS
Montreux Jazz Festival, Switzerland
Jazz en Lima Festival, Peru
Kennedy Center, Washington DC
Hilton Head Island Jazz Society
Pasadena Jazz Institute.