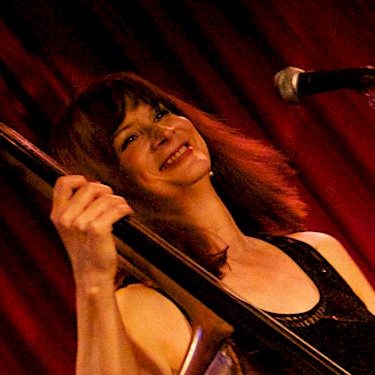 Artist Profile:
Jennifer Leitham
Jennifer Leitham is a career Jazz musician, and has been a professional musician for over 40 years. She is known for playing for many famous dead people, among them Mel Torme', Peggy Lee, George Shearing, Woody Herman, Benny Carter, Louis Bellson, and a horde of others you wouldn't have heard of. She's also played for some who are still alive, Doc Severinsen, and k.d. lang just to name two.
Her basslines have graced many movies and TV shows, and recently she was the subject of an award winning documentary, I Stand Corrected.
She is a bassist, vocalist, composer, arranger, lyricist, and producer.
She is an active educator, and has taught at every level, from beginners to grad students and working professionals across the country. Jennifer is currently teaching private students globally in cyberspace via SKYPE.
She is most proud of her career as a recording artist. As of now she has played on over 125 albums, including 10 albums of her own, (including her huge hit The Real Me), and is currently working on another.
The Jennifer Leitham Trio is an active, working, creative force. Come on out and catch them sometime!