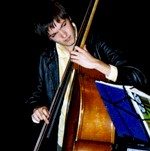 Artist Profile:
Ivan Johnson
IVAN JOHNSON, from Los Angeles, completed his BFA degree at California Institute of the Arts in 2003, where he studied chamber music, jazz, composition, theory and arranging. He has studied contrabass with Charlie Haden, Darek Oles, and Peter Rofe; arranging and composition with Michael Pisaro, Marc Lowenstein and Mark Menzies; and Baroque music with Allen Vogel and Tisha Goldstein. Ivan has performed all over the United States with an eclectic group of ensembles, and made his solo debut at the 2003 Athens Music Festival in Athens, Georgia.
As a musician on the progressive music scene he has premiered compositions by Marc Lowenstein, Vinny Golia, Mark Menzies, Anne LeBaron, Michael Pisaro, James Tenney, Kris Tiner, and Jason Mears. Mr. Johnson's current projects include the Lian Ensemble – a classical Persian group which streches the boundaries of traditional Iranian music, Dark Wing plays a unique blend of world music using free improvisations and original composition for marimba, string bass, tar, setar, ney and a variety of percussion instruments, and the Nate Lapointe Band – a rootsy eclectic songwriting and improvising group. Ivan is head of the jazz program at Oakwood High School in Los Angeles, and he co-founded the Academy of Creative Music.
Recently Mr. Johnson was the Assistant Music Director for the world premiere of the critically acclaimed opera "The Peach Blossom Fan," working closely with Stephin Merritt from the Magnetic fields, and has been an Artist In Residence at Stanford University, performing music by Brian Ferneyhough, and Mark Applebaum. Mr. Johnson recently premiered his own opera "Lucid Dreams" with composer Ethan Gruska.