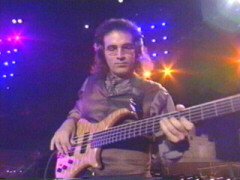 Artist Profile:
Ric Fierabracci
Ric Fierabracci, who has been described by Charlie Adams as the most talented musician among Yanni's band, was born in Queens, NY. At the age of 12 he moved to Florida, where, upon early graduation from high school, he received a scholarship from the University of Miami. After studying jazz there, he later moved to L.A., where he became very active in recording various TV, movie, and album releases.
He's worked for an impressive number of musicians including Jennifer Paige, Andy Summers,
Men At Work, Otmaro Ruiz, Frank Gambale, Planet X, Scott Henderson, Tony MacAlpine, and Steve Smith. He also appeared in Shakira's music video, "Inevitable", and has recorded with Russell Crowe.
Bassist Ric Fierabracci has performed, recorded and run the gamut for artists like Chick Corea, Billy Cobham, Dave Weckl, Gary Husband, Dean Brown, Steve Smith, Vinnie Colaiuta, Mitchel Forman, Munyungo Jackson, Chad Smith's Bombastic Meatbats, Stanley Clarke, Brett Garsed, Phil Turcio, Blood Sweat and Tears, Special EFX, Guthrie Govan, Mike Miller, Scott Henderson, George Whitty, Joel Hoekstra, Tom Coster, Marion Meadows, Andy Summers (with Sting as a special guest), Planet X, Eddie Jobson's UK, Frank Gambale, Curved Air's Sonja Kristina, Adrian Belew to Pop artists: Sir Tom Jones, Bo Bice, Stevie Wonder, Japanese Mega Star – Misia, Jennifer Paige, Sophie B Hawkins, Euge Groove, Bill Evans and others. Ric has also recorded many tracks for the "Guitar Hero" Video games. His latest Studio work has included the bass tracks for the CBS Hit TV series "Without a Trace"
Ric tours regularly and is a member of "Blood Sweat and Tears", "Tizer", "Billy Cobham's Spectrum 40", "Tri-Fecta" as well as some other fine bands. Click Here for Tour dates.
The debut CD from "Hemispheres" was nominated for a Grammy in the 51st Grammy's as "Best Contemporary Jazz Album" and Ric has also been nominated twice in the category of "best Instrumental Jazz Solo"
.