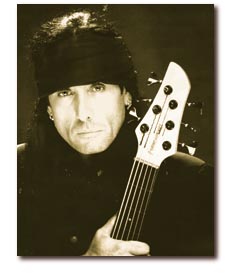 Artist Profile:
Marco Mendoza
Marco Mendoza was born in San Diego. He spent some of his younger years with his grandmother in Tijuana, Mexico. He comes from a very musical family and started playing the guitar at an early age.
The reason he started playing bass was really that he was asked to join a local band who needed a bass player. He had to borrow a bass and learn how to play it in a hurry – and he sure did learn how to play it!!!!
Marco is perhaps mostly known for his work with a number of rock bands, such as Thin Lizzy, Blue Murder, Whitesnake and with artists such as Ted Nugent, Ozzy Osbourne, David Coverdale and John Sykes. Less known is the fact that he has worked with a lot of other types of musicians such as Al Jarreau, Michael Ruff, Edgar Winter, Scott Henderson, Tower of Power and the Cranberries.
Marco is living in Los Angeles. He can be seen most Tuesday nights at La Ve Lee Jazz Club, Studio City, LA with his band 'Mendoza, Heredia, Neto' (When he´s not touring that is…).
Mendoza has developed a unique fretless voice. Muting, front-pickup plucking, and an unusual right-hand technique that borrows from his early classical- and flamenco-guitar days combine to create a deep, staccato style that brings to mind a Mini Moog synth. Mendoza flavors his lines with clever volume effects, selective two-handed tapping, harmonics, strummed chords, and octave slides, and he often doubles his bass parts with percussive vocal sounds. "Years ago I couldn't afford effects, so I started playing around, just having fun with different sounds," he explains.
Marco plays fretted and fretless Fernandes 4's, 5's, and 6's, strung with LaBella Super Steps, through Eden WT-800 heads and Ed
en 410XLT and 210XLT cabinets. Recent credits include touring and recording with Thin Lizzy (taking over for the late Phil Lynott), Blue Murder's Nothing but Trouble and Japan Live [Geffen], and an upcoming Whitesnake disc on EMI. He can also be heard on the Cranberries' remake of Fleetwood Mac's "Go Your Own Way" and Pat Boone's controversial In a Metal Mood [Hip-O]. Switching from his chops-intensive fusion bag to slamming eighth-notes with a pick poses no problem for Marco. "My roots are in rock & roll—but playing different styles keeps you fresh. Whatever you learn in one style can be applied to others, which I find challenging."
Even with his large palette of techniques, Mendoza never overplays; instead he knocks you over with his commitment, sense of fun, and passion for the music. "Eleven years ago, when I got clean from drugs and alcohol, I was given another chance to really appreciate what God has given me. I feel so grateful to be doing what I do. When I perform I remind myself it's a privilege. I try to stay in touch with that." On the personal side….. Marco has two sons, Marco and Aaron, and two daughters Eva and Faith. He married December 2, 2001.