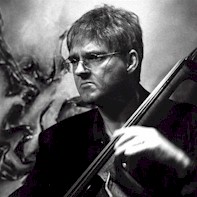 Artist Profile:
Luther Hughes
Luther Hughes has played bass with some of the biggest names in jazz in a career spanning over 30 years. Having recorded and performed on stage, and for film and television scores, Luther can also be seen on Star Trek: Deep Space Nine as a member of the Holodeck band!
Luther's career also includes teaching. You can currently find him teaching classes at California State University Fullerton and Fullerton College, both in Fullerton California.
Luther is the musical director for La Casa del Zorro Desert Resort in Borrego Springs, CA, and has acted as musical director at several southern California venues including El Matador (Huntington Beach, CA), Mucho Gusto (Costa Mesa, CA), Vinni's (Costa Mesa and Laguna Niguel, CA), and The Vanilla Caffe (Orange, CA).
Luther uses and endorses Thomas Martin Basses and Raezer's Edge Speaker Cabinets
Education
…as a student
Luther has studied at the University of Cincinnati College Conservatory of Music, Long Beach City College and California State University Long Beach. Privately he has studied with Alex Cirin (Boston Pops/Jazz Bassist), Thomas Martin (Former Principal Bassist, London Symphony Orchestra), Nat Gangursky (Chicago Symphony), Sue Ranney (Principal Los Angeles Chamber Orchestra), Victor Sazar (Cellist LA
Studios/CSULB), and Eileen Strang (Cellist, LBCC).
…as a teacher
Luther has taught musicians in both the classroom and privately from his home studio. He has taught at the Musicians Institute of Technology (Hollywood, CA), Saddleback Community College (Mission Viejo, CA), Golden West College (Huntington Beach, CA), Rio Hondo Community College (Whittier, CA), California State University Long Beach (Long Beach, CA), California State University Fullerton (Fullerton, CA), Fullerton College (Fullerton, CA), Vanguard University (Costa Mesa, CA). Luther's current teaching schedule includes students at Fullerton College, California State University Fullerton, and Saddleback Community College.
Performing
Luther's performing career extends beyond jazz to pop music and musical theater and television. The following is a list of Luther's performing experiences.
Jazz
Gene Harris, Quincy Jones, Joe Henderson, Carmen MacRae, The Crusaders, Buddy Greco, Frank Wess, Teddy Edwards, Terry Gibbs, Buddy DeFranco, Jimmy Rowles, Tal Farlow, Bob Cooper, Kenny Burrell, Hampton Hawes, Willie Bobo, Dorothy Donegan, Don Rader, Rob McConnell, Mundell Lowe, Jimmy and Jeannie Cheatam, Sue Rainey, Morgana King, Dave Pell's "Prez Conference", George Van Eps, Phil Upchurch, Sam Riney, Joe Pass, Joe Farrell, Horace Silver, Jack McDuff, Lionel Hampton, Joe Williams, David Matthews, Gloria Lynn, Jack Sheldon, Poncho Sanchez, James Moody, Roy Meriweather, Anthony Wilson, Scott Hamilton, Richie Cole, Karyn Allison, Bud Shank, Nick Brignola, Al Gray, Bill Watrous, Joe Diorio, Pat Metheny, Sweets Edison, Cat Anderson, Barney Kessel, Laurindo Almeida, David Benoit, Ernestine Andersen, Harold Land, Charlie Shoemake.
Jazz Festivals
Playboy Jazz Festival, North Sea Jazz Fest, Monterey Jazz Fest, Concord Jazz Fest, Montreux Switzerland Jazz Fest, Umbria Italy Jazz Fest, Concord/Fujitsu Jazz Fest in Japan, Hamakua Music Festival, Sacramento Jazz Fest, Graz Austria Jazz Fest, Norway Jazz Festival Cruise, Lionel Hampton Jazz Fest, Moscow Idaho Jazz Fest, Gene Harris Jazz Fest, Boise Idaho.
Big Band
Don Ellis, Harry James, Louis Bellson, Les Brown, Les Elgart, Bob Florence, Ray Anthony, The Clayton/Hamilton Orchestra, and The Capp/Pierce Juggernaut.
Pop/Rock/Country
Long Beach Municipal Band, and leader of Long Beach Municipal Jazz Combo, Patti Page, Tony Martin, Frankie Avalon, Fabian, Nancy Sinatra, Pearl Bailey, King Sisters, Lennon Sisters, The Fifth Dimension, The Coasters, Tennessee Ernie Ford, Connie Smith, Ray Price, Homer and Jethro, The Playboy Club in Cincinnati and Los Angeles, and freelance musician for Disneyland Park.
Musical Theater and Television
"Georgia Brown and Friends", "The Four Poster" starring Carol Lawrence, and Ross Martin, "Flower Drum Song", The Rich Little Show, conductor/musical director for "Good Times", and Jack Jones, Don Rickles, Yakov Smirnoff, Pat Morita. "The Tonight Show with Johnny Carson", "The Pat Sajak Show", "The Midnight Special", numerous Dick Clark productions, and can also be seen in several episodes of "Star Trek Deep Space Nine". Also extensive work as a Los Angeles session bassist for TV, records, movies, etc.