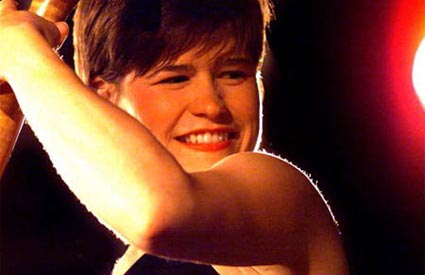 Artist Profile:
Kristin Korb
There are many bass players who "sing" as they perform – that occasionally audible hum that's heard as they play their solos. Imagine a player who sings in the tradition of Ella Fitzgerald and Sarah Vaughan and plays the bass with the authority and swing of the great Ray Brown. With these and many other strong influences, Kristin Korb has created a style and presence all her own.
Her latest recording, Where You'll Find Me (on Double K Music), features Kristin singing AND playing bass in a trio setting with drummer Jeff Hamilton and pianist Mike Wofford. The San Diego Union-Tribune states that this recording features a "…ravishing approach…" to seven standard tunes and four original tunes. (The CD is available through www.amazon.com.)
Born and raised in Montana, Kristin grew up in a musical family and often presented concerts with her three younger brothers. Her passion for music eventually led to a bachelor's degree in music education from Eastern Montana College. In 1992, she moved to San Diego to hone her bass skills with bass professor Bertram Turetzky, earned a master's degree from the University of California (San Diego), and became one of the busiest bassists in San Diego.
Kristin just finished her stint as Director of Jazz Studies at Central Washington University in Ellensburg, Washington, where she performed with the faculty jazz ensemble, taught bass, jazz history and directed their premier large jazz ensemble, Jazz Band 1. She has now relocated to focus on her performing career based out of Los Angeles, California.
Her debut CD, Introducing Kristin Korb, was on the Telarc label and featured bassist Ray Brown (Kristin's main musical influence), pianist Benny Green and drummer Gregory Hutchinson. Guest artists included Conte Candoli, Plas Johnson and Oscar Castro-Neves.Kristin tours nationally as both an artist and educator.
Recent performances/clinics include a presentation at the International Association of Jazz Educators (IAJE) Conference, a tour of Japan, the 2001 Brandon Jazz Festival (Canada), and the Paradise Valley and West Coast Jazz Parties. She has been featured at the International Society of Bassists Conference (in 1999 and 2001) and has recently been appointed to their Board of Directors.
In addition to Ray Brown and Benny Green, Kristin has appeared with such artists as Clark Terry, Bill Mays, Bobby Shew, Jeff Hamilton, Harry Allen, Carl Allen, Joe LaBarbera, Tamir Hendelman, and Mike Wofford. She is now the leader of her own ensemble.