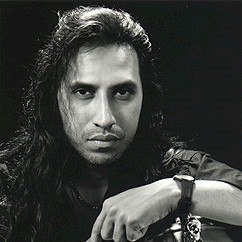 Artist Profile:
Joey Heredia
Joey Heredia is a remarkable drummer who blends a multitude of styles, timing, and unbelievable skill to achieve a unique level of playing making him one of the best in the business. His credits include luminaries like Stevie Wonder, Sheila E, Sergio Mendez, Herb Alpert, Tania Maria, Scott Henderson, Frank Gambale, and Dianne Reeves.
It's not surprising that Joey became a musician. His mother was a famous singer throughout Mexico, Central and South America in the 1940's and 1950's, and his father, a drummer, was a session player in Los Angeles. Although this appears the perfect recipe for creating a great musician, it wasn't. Joey's mother retired when
he was born, and when Joey was only 4 his father had a stroke ending his father's drumming. Growing up in East Los Angeles was definitely rough, and his mother was extremely cautious of Joey's desire to become a musician. She knew exactly how tough the business was and wasn't sure about her son following that path.
Joey was persistent, and they struck a bargain. He could follow his musical path – if he kept his grades up. On his 16th birthday Joe's tenacity paid off and his parents relented and finally bought him a Slingerland drumset. He immediately began practicing to Blood, Sweat & Tears, Chicago, and Tower of Power records.
Blessed with an incredible innate talent Joey was playing gigs before his 18th birthday. Most of these bands were Top-40 bands playing for primarily Latin audiences in East Los Angeles., This meant the bands usually included from 2 to 5 horns, a full rhythm section, and played Salsa too. When they didn't have a full rhythm section Joey had to cover the timbale, conga, and cowbell parts. This came naturally to Joey, he'd grown up listening to the records his father would play and had started naturally imitating what he heard on the records on his kit.


The next step in Joey's evolution as a drummer came when he met his "mentor" Steve Loza (keyboard player/trumpeter) a professor of ethnomusicology at UCLA and author of the book on music of the Barrio and Chicano/Mexican artists from East Los Angeles. He broadened Joey's horizons by introducing him to jazz and classical music, changing Joey's direction from wanting to be the famous drummer playing huge stadiums, to being a formidable jazz drummer. Steve also reinforced Joey's father's desire that Joey should formally study music.
Joey enrolled in East Los Angeles Junior College, and then went onto Los Angeles City College, studying theory, reading, and the art of the big band. At one point he was playing in 5 different big bands a week.
After college Joey was an extremely well rounded player with both the education, chops, and experience to tackle any gig. His talent, time, and education paid off when he was chosen by Billy Childs to be part of Dianne Reeves band. This generated considerable interest in the music community and led to the now 22 year old, Joey Heredia, being hired to replace one of his idols, the unavailable Alex Acuna, in Tania Maria's touring band.
His fast growing reputation, both with Tania Maria and his session work, quickly led to other remarkable gigs with artist like Sergio Mendez, Brazil 88, Scott Henderson, and Frank Gambale. Firmly establishing Joey at the top of his chosen profession.
Not one to rest on his past accomplishments, Joey continually expands his horizons including: Musical Director for Jennifer Page; producing select projects at his studio – Joey's Studio; and co-founding a new record label – "Groove Gallery Records." Be sure to check back often, you never what Joey will do next!
Scott Henderson, Frank Gambale, Billy Childs, Gary Herbig, Freddie Ravel, Star Parodi, Stevie Wonder, Carole King, Ciro Hurtado, Dianne Reeves, Diego Torres, Sabia, Tania Maria, Strunz & Farah, Louis Verdieu, MVP, Ricardo Silveira, Sonya Jason, Word of Mouth, Marco Mendoza, and many more.