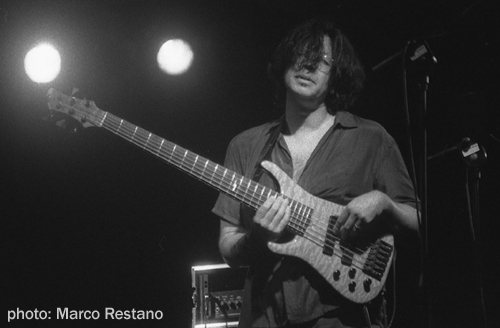 Artist Profile:
Jimmy Haslip
Jimmy Haslip grew up in a rich musical environment. As a youth, he listened to Latin and salsa music around the house, including such Latin music icons as Tito Puente, Mongo Santamaria, Machito, Ray Barretto, Celia Cruz and Eddie Palmieri, to name a few. In addition to learing various Latin dances from his parents, Jimmy learned how to play a lot of basic Latin rhythms on the different percussion instruments that they had around the house.
He learned to play authentically on the claves, maracas, cowbell, bongos and the guido, which gave him that keen sense of time and rhythm that surfaces in his bass playing today.
His older brother Gabriel also played Jimmy some jazz and classical music, so he had exposure to John Coltrane, Charlie Parker, Eric Dolphy, Miles Davis and Dave Brubeck on one hand, and the music of
Debussy, Stravinsky, Beethoven, Mozart and Mahler on the other.
Jimmy says, "This was an eye opening time for me and even though most of this music was over my head, it definitely ignited my musical curiosity. I also was listening to a lot of Pop music, like the Beatles, the Supremes, The Four Tops, The Temptations, Wilson Pickett, James Brown and lots of great Pop music on the radio. I can remember that it was a very exciting time for music!"
Jimmy began studying music in elementary school, playing the trumpet and other assorted brass instruments (including the bugle, baritone horn and tuba) from age seven to fourteen. Jimmy picked up a bass at the age of fifteen and taught himself how to play it. "Actually the very first time I saw an electric bass, was at a junior high Valentine's day dance. There was a live band playing and the bass player had an reddish/orange Hagstrom bass and a small Standel bass amp. It was then that I knew I wanted to play the electric bass! What a feeling! I'll never forget it as long as I live. It was my very first real spark of creative passion!"
While being mostly self taught on the bass, Jimmy studied with a private bass/tuba player from New York named Ron Smith. He was also very fortunate to have studied with one of jazz music's greatest talents. "…I did manage to study with Jaco Pastorius for a few weeks in the mid seventies, when he had just joined Weather Report. That was a giant leap for me as a serious musician and it filled me with a much higher level of inspiration. I think he was a major inspiration to all bass players at that time!"
To sum it up, Jimmy offers this inspirational piece of advice that is applicable to any musician, whether new or experienced: "I've basically learned so much from just about every musician I've performed with in the past and I will continue to learn from my experiences in the future. The learning process is never ending. The key is to always strive and search for knowledge. In learning new things everyday, there will be inspiration. That inspiration will thirst for knowledge and so the endless cycle goes. They will feed each other infinitely and theoretically the 'creative well' will never run dry."
Influences
So, what musical influences does Jimmy claim? "Well definitely for me the Beatles, especially Paul McCartney, inspired the melodic concept and James Brown inspired the groove. There was Tito Puente and Mongo Santamaria who inspired rhythm. Béla Bartók, Mozart, Prokofiev, Samuel Barber, Chick Corea, early Genesis, Gentle Giant, Olivier Messiaen, Dmitri Shostakovich,Krzysztof Penderecki, Antonio Carlos Jobim, Villalobos, Brahms, Wayne Shorter, Zawinul, Jaco Pastorius, Alban Berg, Mingus, Miles,Nicolas Slominski, Coltrane, Thelonius Monk, Sting, Peter Gabriel, Joni Mitchell, Basie, Duke Ellington, Billy Strayhorn, The Motown Sound and Aaron Copeland, just to name a few that inspired writing, arranging and composition.
"Van Gogh, Dali, Henri Rousseau, Georgia O'keeffe, Leonardo DaVinci, Galileo, Einstein, Nikola Tesla, Plato, Walt Whitman, Marc Chagall, Henry Moore, Edward Hopper, Rembrandt, Picasso, Botero, Matisse, Escher, Canaletti, Gaudi, Gauguin, Federico Fellini, Alfred Hitchcock, Steven Speilberg, Frank Capra,Orson Welles, Lina Wertmuller, Ingmar Bergman, François Truffaut to name a few who inspired my imagination."
And last but not least, perhaps the most influential person in Jimmy's career: "Jimi Hendrix was the sole inspiration for me playing music as a profession. Seeing him perform live was awsome and it lit a fire within me, which eventually gave me the drive to pursue music as a career."
Jimmy also plays on the following projects released over the past year: Everette Harp "Better Times", Dwight Sils "Easy", Warren Sneed "Brothers", Glenn Jones "It's Time", Gary Wright "Best of the Dreamweaver", Marc Antione "Madrid", Ricky Lawson and friends "First Things 1st" , "Heart and Soul – New Songs from Ally McBeal" featuring Vonda Shepard, John Molo's "Modereko" Gerald Albright/Will Downing "Pleasures of the Night", and Tribute to Lowell George "Rock n' Roll Doctor".
Artists Jimmy Has Performed With
Jimmy's credits are a virtual who's who of the popular and jazz music industry. This is the "short list" of some of the talents he has recorded and/or toured with over the past 25 years:
Gino Vannelli, David Sanborn, Rod Stewart, Michael Sembello, Joe Cocker, Vince Mendoza, Chaka Khan, Eric Marienthal, Al Jarreau, John Scofield, Gary Wright, Crosby, Stills & Nash, Brenda Russell, Dave Mason, Tom Scott, Jerry Garcia, Bo Didley, Marilyn Scott, Dori Caymmi, Betty Wright, Ivan Lins, Kenny Loggins, Flora Purim & Airto, Rickie Lee Jones, El DeBarge, Chi Coltrane, The Chiffons, The 5 Satins, Larry Carlton, Chubby Checker, Booker T. Jones, Cheech Marin, Mick Fleetwood & the Zoo, Kiss, Christopher Williams, Michael Penn, John Klemmer, John Finley, Tommy Bolin, Carmine Appice, Charlie Watts, Michael Narada Walden, Milton Nasciamento, Christopher Williams, Roy Ayers, Mark Stein, Kiss, Lee Ritenour, Laura Brannigan, Jackie Lomax, Bobby Caldwell, John Ford Coley, Randy Crawford, Harvey Mandel, Diane Reeves, James Ingram, Ricardo Silveira, Bill Gable, Michael Franks, Bonnie Raitt, Pat Metheny, Jerry Garcia, Al Stewart, Jimmy Barnes, Branford Marsalis, Blackjack w/ Michael Bolton, Dave Koz, Kenny G, Steve Reid, Bob Mintzer, Bob Mamet, Bob Sheppard, Greg Karukas, Bruce Beckvar, Larry John McNally, Randy Brecker, Bob James, Vinnie Colaiuta, Max Carl, Sovory, Dusty Springfield, Andy Snitzer, Bill Gable, Aureo Baquiero, Kevyn Letteau, John Beasley, Don Grusin, Carl Anderson, James House, Jeff Richman, Nana Vasconcuelos, Boney James, Justo Almario, Kevin Mahogany, Hilary Jones, David Diggs, Michael Ruff, Diana Ross, Bobby Lyle, Vonda Shepard, Ambrosia, Pat Metheny, Eva Cassidy, Modereko, Marc Antione, Sergio Salvatore, Robben Ford, Dave Samuel's, Andy Narell, Bill Champlin, Michael English, Huey Lewis, Toots Thielmanns, Selena, Harvey Mason, Paulinho Da Costa, Alex Acuña, Herb Alpert, Tim Hagans, Michael Davis, David Meece, Lisa Fischer, Mike Pinera, Paulinho Da Costa, Tower of Power Horns, Richard Page, Steve Khan/Trio Electric, Peter Erskine, Dennis Chambers, Andy Laverne, Terry Bozzio, Kiki Ebsen, Joe Sample, David Benoit, Ron Wood, Ndugu Leon Chancelor, Richard Elliot, Warren Sneed, Neil Larson, The Rippingtons, Jeff Beal, Jon Anderson, Nigel Olsen, Joshua Redman, Native Vibe, Michael McDonald, Phil Perry, Everette Harp, Kevyn Lettau, Kenny Garrett, Sandro Albert, Otmaro Ruiz, Gerald Albright, Bruce Willis, Chuck Loeb, Jonathan Butler, Luis Conte, Dwight Sils, Alphonse Mouzon, Glenn Jones, Mitchell Froom, Michiel Bortslap, Terri Lynn Carrington, Patrice Rushen, Andy Summers, Bela Fleck, Bobby McFerrin, Take 6, Anita Baker, Kurt Elling, Donald Fagen, Walter Becker, Bruce Hornsby, Randy Newman, Brian Auger and George Harrison, etc.