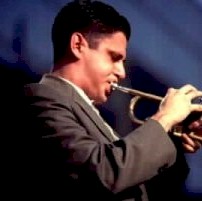 Artist Profile:
Gilbert Castellanos
There's no slowing down Gilbert Castellanos. Since arriving in San Diego in the mid 1990s he's managed single-handedly (with some help of other talented players) to spark a major interest in jazz, more importantly local jazz.
The only game in town when he showed up was Croce's. Now you can't walk a block in downtown San Diego without bumping into a new jazz club that's packed with attentive listeners, eagerly hanging onto every note. People are listening, and enjoying for the first time in quite awhile, music for what it is. Not just an excuse for a social gathering.
In addition to playing almost every single night and bringing people downtown from their safe little nests, Castellanos practices at least 6 hours a day. And it shows. Every year, every month, every week, every gig, Castellanos just keeps getting better. With a nod to the great Blue Note classics, mixed with a healthy dose of bop, Castellanos brings his own fresh ideas to jazz.
Jazz trumpeter Gilbert Castellanos has to be one of the busiest musicians in San Diego. He plays on average six days a
week. Sometimes he has gigs every day of the month, at times two or three in one day. The reason is simple, if you ask his fellow musicians: Castellanos is hot because he's very good.
Somewhat surprisingly in a business where big egos abound, none of this has gone to the young musician's head. Far from it. Polite and soft-spoken, Castellanos is the antithesis of the prima donna. He seeks a deeper meaning with his music and shares what he finds with his fans.